Introduction
As companies strive to meet ever-evolving customer expectations, the importance of robust quality assurance testing cannot be overstated. Many businesses are turning to outsourcing as a strategic solution to enhance their quality assurance and quality control processes. In this article, we explore the myriad benefits of outsourcing quality assurance testing services, from accessing specialised expertise to achieving cost-effectiveness and scalability.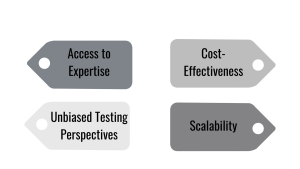 Access to Expertise
One of the primary advantages of outsourcing quality assurance testing is gaining access to a pool of specialised expertise. Quality assurance requires a deep understanding of various testing techniques, methodologies, and tools. By outsourcing to dedicated testing professionals, businesses can tap into a wealth of knowledge and experience. These experts stay abreast of the latest industry trends, ensuring that your products are tested against the most current standards and methodologies.
Cost-Effectiveness
Cost considerations are a crucial factor for businesses of all sizes. Outsourcing quality assurance testing allows companies to reduce overhead costs associated with maintaining an in-house testing team. By leveraging external expertise, businesses can allocate resources more efficiently, focusing on their core competencies while enjoying the cost savings associated with outsourcing. This cost-effective approach is particularly beneficial for smaller businesses looking to compete with larger counterparts on a more level playing field.
Scalability
The dynamic nature of business demands a scalable approach to quality assurance. Outsourcing quality assurance testing services provides the flexibility to scale testing efforts up or down based on project requirements. Whether dealing with a small-scale update or a large-scale product launch, outsourcing allows businesses to adapt their testing resources accordingly. This scalability ensures that the testing process remains agile and responsive to changing project needs.
Unbiased Testing Perspectives
Quality assurance checks conducted by an external team bring a fresh and unbiased perspective to the testing process. Internal teams may inadvertently develop blind spots or assumptions about the product. Outsourcing quality assurance testing introduces a neutral set of eyes, helping to identify potential issues that may have been overlooked internally. This unbiased approach is crucial for achieving thorough and comprehensive testing, ultimately leading to a more reliable and robust end product.
Quality Assurance Framework and Processes
Outsourcing quality assurance testing comes with the added advantage of leveraging established quality assurance frameworks and processes. External testing providers often have well-defined methodologies and frameworks in place, honed through years of experience across various industries. This ensures that your products undergo testing in accordance with industry best practices and standards, enhancing the overall quality of your deliverables.
Strategic Quality Assurance Management
Quality assurance managers play a pivotal role in ensuring that testing aligns with business objectives and industry standards. Outsourcing quality assurance testing allows businesses to benefit from the strategic expertise of experienced quality assurance managers. These professionals oversee the entire testing process, ensuring that it adheres to established quality assurance strategies and objectives.
Conclusion
In conclusion, outsourcing quality assurance testing is a strategic move that brings a myriad of benefits to businesses seeking to enhance the quality and reliability of their products and services. From accessing specialised expertise and achieving cost-effectiveness to scalability and unbiased testing perspectives, the advantages are clear. By leveraging external testing services, businesses can optimise their quality assurance function, ultimately delivering superior products that meet and exceed customer expectations. Embrace the power of outsourcing to unlock success in the competitive world of quality assurance testing.
Contact us via sales@instandart.com or fill out the form on the main page of the site to discuss your projects. We are always ready to help!