What is Team Augmentation?
Team (or Staff) Augmentation is a type of outsourcing strategy in which an external supplier is used on a contract basis to supplement the knowledge and skills of an existing internal team.
This method consists in assessing the existing staff and then determining the additional skills needed. One of the possible advantages of this approach is that it can use existing resources as well as use outsourced services and contract workers.
The purpose of the team augmentation is to meet staffing needs using the existing pool of talent.
Staffing growth is incredibly common: the global talent industry, one of the main providers of staffing talent, is estimated to generate $490 billion in annual spending.
Firstly, it's not about outsourcing your entire project, as you still have core staff complemented by remote developers with the specific skills and experience you need.
Secondly, expanding the team can be either a short term solution or a way to group people who will work together in the long term.
Thirdly, and most importantly, the increase in staff is associated with cooperation. The idea is to create a group of people with complementary skills who can work together towards a common goal.
Simply put, an extended team is an internal team that has been expanded by bringing in people from outside the organisation. This setup allows the business to maintain control and transparency while adding the key skills and knowledge needed to progress quickly.
The advantages of leveraging team augmentation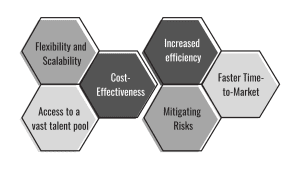 Flexibility and Scalability
One of the main benefits of team augmentation is its unparalleled flexibility and scalability. Hiring new workers the traditional way: 
takes time (especially the recruitment process), 

is expensive, 

and doesn't give you much room when it comes to building a new team.
After all, you can't hope to hire every single person in your company full-time.
This is where the use of a more flexible team recruitment service comes in handy, providing endless possibilities.
Increasing your staff gives you the ability to increase or decrease the size of your team depending on the requirements of the project. Whether you need additional resources for a specific project or want to fill skill gaps, staffing will allow you to adjust the size of your team without the burden of a long-term commitment.
Access to a vast talent pool
Increasing the workforce allows organisations to access a huge pool of specialised skills and experience that may not be available to their existing workforce. Sometimes businesses may need specific technical skills for a particular project or expertise in niche areas. Hiring permanent employees for such tasks can be costly and time consuming.
By cooperating with IT companies, you get access to a huge pool of highly qualified and experienced professionals. These experts bring valuable industry insights and cutting-edge knowledge to enrich your projects with fresh ideas and innovative solutions. That is, you can access a network of qualified professionals.
This means you can find the perfect technicians for your project, no matter what skill set or level of experience you need. If your project is particularly complex, you can create an entire remote team to work alongside your internal development teams and project managers.
Cost-Effectiveness
Maintaining a large internal team can be costly, especially when you factor in the costs of salaries, benefits, training, and infrastructure.
Team augmentation is a cost effective alternative. By replenishing existing staff, you can temporarily attract external specialists, thereby reducing overhead costs. In addition, you avoid the long-term financial obligations associated with hiring for a permanent job.
Staff augmentation allows you to allocate resources efficiently by paying only for the skills and services you need for a specific period. This helps optimise your budget and achieve a higher return on investment (ROI).
Increased efficiency
By filling in the gaps in your team, team augmentation can help increase efficiency, speed up work, and make it much easier to resolve potential project problems.
As a bonus, since you only need to hire developers for each specific project or task, there is no need for lengthy or expensive training and onboarding.
What's more, since you'll be hiring people who already have the necessary know-how, you won't have to worry about explaining the basics to them or waiting for them to get the hang of it. This can save a lot of time and money in the long run.
Faster Time-to-Market
In today's rapidly changing business environment, speed is often the deciding factor in gaining a competitive advantage.Team augmentation allows you to accelerate the implementation of projects and speed up time to market. By leveraging external expertise, you can optimise processes, improve efficiency and overcome bottlenecks.
External experts bring fresh perspectives and ideas, allowing you to benefit from their experience and knowledge. The ability to quickly add qualified resources to your team ensures that your projects are completed within the desired time frame, helping you meet customer expectations and quickly seize market opportunities.
Mitigating Risks
Every business venture comes with risks, and hiring permanent employees is no exception. Team augmentation reduces this risk by offering more flexibility and reducing the burden of long-term liabilities.
With temporary resources, you can easily downsize or terminate their services when the project is completed or if demand drops. This will help you navigate the uncertainties of the market and manage risk effectively.
In addition, staff augmentation will allow your core team to focus on strategic initiatives and core business functions, while the extended staff will focus on specialised tasks. This division of labour increases productivity, allows better allocation of resources, and promotes overall organisational growth.