Introduction
Businesses often find themselves in need of specialised expertise to drive their projects to success. This is where team augmentation comes into play. Team augmentation is a strategic approach that allows organisations to extend their in-house capabilities by bringing in external talent or teams. However, choosing the right team augmentation model is crucial for a project's success. In this article, we will explore the different engagement models available, such as dedicated teams, project-based augmentation, and hybrid approaches, to help you understand which one best suits your specific project needs.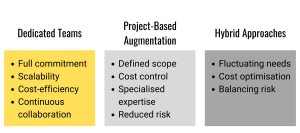 Dedicated Teams
A dedicated team augmentation model is an ideal choice for projects that require ongoing and long-term development, maintenance, or support. With this model, you hire a dedicated team of professionals who work exclusively on your project. Here are some key benefits and situations where a dedicated team works best:
Full commitment: The team is fully committed to your project, ensuring that they have a deep understanding of your goals and requirements.

Scalability: You can easily scale the team up or down based on project needs, which is great for businesses with fluctuating requirements.

Cost-efficiency: In the long term, a dedicated team can be more cost-effective compared to hiring full-time in-house employees.

Continuous collaboration: The team becomes an extension of your in-house team, fostering seamless communication and collaboration.
Dedicated teams are ideal for complex, ongoing projects that require continuous maintenance and improvements.
Project-Based Augmentation
Project-based augmentation is a suitable model for companies looking for a short-term solution to address specific project requirements. Here's when you should consider this model:
Defined scope: If your project has a well-defined scope, timeline, and deliverables, project-based augmentation is an efficient choice.

Cost control: With this model, you can control project costs more easily, as you're not committing to a long-term relationship.

Specialised expertise: When you require specific skills or experience that your in-house team lacks, hiring external experts for a specific project phase is a smart move.

Reduced risk: Project-based augmentation is lower risk as compared to dedicated teams, as it limits your commitment to a single project.
This model is particularly beneficial for businesses dealing with one-time projects, such as software development, marketing campaigns, or event planning.
Hybrid Approaches
Hybrid team augmentation combines elements of both dedicated teams and project-based augmentation. It offers flexibility and adaptability while maintaining a long-term commitment to the project. Here's when a hybrid approach may be the right choice:
Fluctuating needs: When your project requirements fluctuate over time, you can start with a dedicated team and then transition to a project-based model once the project stabilises.

Cost optimisation: For cost-conscious businesses, hybrid models allow them to manage ongoing expenses more effectively.

Balancing risk: This approach provides a balance between the commitment of dedicated teams and the flexibility of project-based augmentation, minimising the overall risk.
Hybrid approaches are suitable for businesses that want the best of both worlds, combining the stability of dedicated teams with the adaptability of project-based models.
Conclusion
Choosing the right team augmentation model is crucial for your project's success. The decision should be based on your project's scope, timeline, budget, and resource requirements. Whether you opt for dedicated teams, project-based augmentation, or a hybrid approach, the key is to align your choice with your specific project needs. Consider the factors such as project duration, budget constraints, required skillsets, and the level of control and commitment you want. With the right team augmentation model in place, you can enhance your project's chances of success while optimising resource utilisation.
If you have any questions or an idea for a project, contact us via sales@instandart.com or fill out the form on the main page of the site to discuss. We are always ready to help!