Introduction
Staying ahead often requires leveraging the right resources and strategies. Team augmentation has emerged as a powerful solution for companies seeking to optimise their operations and enhance productivity. In this article, we will explore the concept of team augmentation, its benefits, and how businesses can maximise their return on investment (ROI) when utilising team augmentation services.
What is Team Augmentation
Team augmentation, also known as staff augmentation, involves enhancing a company's workforce by integrating external professionals into existing teams or forming entirely new teams. These augmented teams can work on-site or remotely, providing businesses with the flexibility to tap into specialised skills without the need for permanent hires. This approach is particularly valuable for projects requiring specific expertise or short-term support.
Team Augmentation Benefits
Team augmentation has a list of benefits.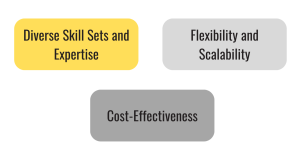 Diverse Skill Sets and Expertise: Augmenting your team allows you to access a diverse pool of talent with specialised skills. Whether it's software development, marketing, or design, businesses can assemble a team tailored to their project requirements.

Flexibility and Scalability: Team augmentation offers the flexibility to scale your workforce up or down based on project demands. This agility ensures that you have the right resources at the right time, without the long-term commitments associated with traditional hiring.

Cost-Effectiveness: Companies can optimise their budgets by only paying for the services they need when leveraging team augmentation. This cost-effective approach eliminates the expenses associated with hiring, onboarding, and maintaining a full-time, in-house team.
Factors for Maximising ROI with Team Augmentation
There are several factors for maximising ROI with team augmentation.
Strategic Team Composition: Carefully consider the skills and expertise required for your project. Augmenting your team with professionals possessing the right skill sets ensures efficient project execution. Whether forming a remote augmented team or on-site dedicated teams, the strategic composition is crucial.

Project Monitoring and Communication: Effective communication and project monitoring are essential for successful team augmentation. Utilise collaboration tools and establish clear communication channels to facilitate seamless interaction between in-house and augmented team members. Regular check-ins and progress updates contribute to a cohesive working environment.

Setting Clear Objectives and Metrics: Clearly define project objectives and success metrics. This allows both your in-house team and augmented teams to align their efforts towards common goals. Regularly evaluate performance against these metrics to ensure continuous improvement and success.

Continuous Training and Development: Invest in the ongoing training and development of both your in-house team and augmented professionals. This ensures that everyone stays up-to-date with industry trends and technologies, enhancing the overall effectiveness of the combined team.
Conclusion
Team augmentation services provide businesses with a powerful tool to optimise their workforce, improve project outcomes, and maximise ROI. By strategically composing teams, fostering effective communication, and setting clear objectives, companies can fully harness the benefits of team augmentation. Embracing the flexibility and scalability that team augmentation offers allows businesses to stay agile in a rapidly evolving business landscape, ultimately leading to enhanced competitiveness and success.
InStandart will be very happy to supplement your staff with our specialists. Contact us via sales@instandart.com or fill out the form on the main page of the site to discuss your projects. We are always ready to help!