Introduction
In today's digital age, applications and backends are the backbone of most businesses. Whether you're running an e-commerce platform, a mobile app, or a web-based service, the smooth functioning of these technologies is crucial for your success. However, building a great app or backend system is just the beginning; ongoing support is equally, if not more, important. In this article, we'll explore why continuous app and backend support is vital for maintaining optimal performance, ensuring user satisfaction, and safeguarding business continuity.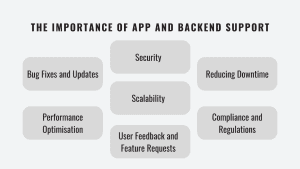 Bug Fixes and Updates
One of the most obvious reasons for ongoing support is the need for bug fixes and updates. No software is perfect, and as users interact with your application, they will inevitably encounter issues. Without a dedicated support system in place, these problems can pile up, leading to a frustrating user experience and potentially causing customers to abandon your product.
Regular updates are also essential for staying competitive in the market. Technology evolves rapidly, and new features or security patches may be required to keep your application relevant and safe. Ongoing support ensures that your app or backend remains up to date and capable of meeting user expectations.
Performance Optimisation
Applications and backends can slow down over time due to various factors like increased user traffic or data growth. Continuous support allows you to monitor performance metrics and make necessary optimizations to maintain speed and responsiveness. This not only improves user satisfaction but also helps prevent potential issues that could lead to downtime or crashes.
Security
Security breaches are a constant threat in the digital world. Cybercriminals are always looking for vulnerabilities to exploit. Ongoing support is essential for regularly patching security vulnerabilities, updating encryption methods, and implementing the latest security best practices. Neglecting security updates can result in data breaches, which can be catastrophic for your business and erode user trust.
Scalability
As your business grows, your application and backend must be able to scale accordingly. Without ongoing support, scaling can become a complex and risky process. With proper support in place, you can plan for scalability, ensure the infrastructure can handle increased loads, and seamlessly expand your services as needed.
User Feedback and Feature Requests
User feedback is invaluable for improving your application or backend. Users often provide insights into what's working well and what needs improvement. Ongoing support allows you to gather and analyze user feedback and prioritize feature requests. By implementing user-suggested improvements, you can enhance user satisfaction and loyalty.
Reducing Downtime
Downtime is the nemesis of online businesses. Every minute of downtime can result in lost revenue and frustrated users. Ongoing support helps identify potential issues before they lead to downtime. With proactive monitoring and maintenance, you can minimize downtime and maintain business continuity.
Compliance and Regulations
Laws and regulations related to data privacy and security are continually evolving. Failure to comply with these regulations can result in legal consequences and damage to your reputation. Ongoing support ensures that your application and backend are compliant with the latest regulations, reducing the risk of legal complications.
Conclusion
The importance of ongoing support for applications and backends cannot be overstated. It is not just a matter of fixing bugs; it's about ensuring optimal performance, security, scalability, and user satisfaction. Without continuous support, your business risks falling behind the competition, facing security breaches, and experiencing costly downtime.
Investing in ongoing app and backend support is an investment in the long-term success and resilience of your business. It not only keeps your technology up and running but also demonstrates your commitment to providing the best possible experience for your users. In a world where user expectations are constantly rising, ongoing support is the key to staying ahead and thriving in the digital age.
Contact us sales@instandart.com if you want to order support services for your business or if you have questions.