Introduction
In today's fast-paced digital world, software has become the backbone of almost every business operation. Software systems are integral to the efficient functioning of businesses, from customer management to financial transactions.
However, the importance of software maintenance is often underestimated or overlooked. In this article, we'll delve into the main reasons why software maintenance is essential for a business, highlighting its role in system stability, security updates, bug fixes, and the support it provides for software development over time.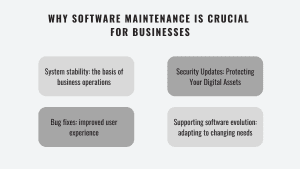 1. System stability: the basis of business operations
Think of your business as a well-oiled machine, with software serving as the gears and cogs that keep things running smoothly. Like any mechanical system, software requires regular maintenance to avoid breakdowns. Software maintenance activities, such as monitoring and patching, play a key role in maintaining system stability.
By removing performance bottlenecks, optimising resource utilisation, and resolving underlying issues, software maintenance keeps business-critical applications running smoothly. This stability results in smooth operation, customer satisfaction and increased productivity. This ensures that your software continues to meet the demands of your growing business without disruption or downtime.
2. Security Updates: Protecting Your Digital Assets
The digital sphere is full of threats, and the number of cyber attacks is on the rise. Without proper maintenance, software can become vulnerable to security breaches, putting sensitive data, intellectual property and customer trust at risk. Software maintenance is your first line of defence against these threats.
Keeping your software up to date with patches and security patches is essential to protecting your digital assets. Hackers are constantly discovering new vulnerabilities, so staying ahead of them is critical. Software maintenance not only protects your business from potential cyber threats, but also ensures compliance with industry regulations, which if ignored can have legal and financial consequences.
3. Bug fixes: improved user experience
Bugs are an inevitable part of software development. They can manifest themselves in various forms: from minor troubles to serious failures. If left unaddressed, these errors can undermine user trust and reduce productivity. Software maintenance is the solution to the problem.
By actively identifying and fixing errors, we improve the user experience, making your software more reliable and usable. This, in turn, increases customer satisfaction and loyalty, helping your business thrive in a competitive market. Moreover, a reputation for reliable software can attract new customers and partners, driving growth.
4. Supporting software evolution: adapting to changing needs
Businesses are dynamic entities that constantly evolve in response to changing market demands and customer preferences. Your software should evolve with you. Software maintenance is not just about maintaining the status quo, it is also about promoting growth and innovation.
As your business expands, your software must scale, integrate with new technologies, and adapt to new trends. Maintenance teams play a critical role in this process, ensuring that your software remains relevant, effective, and able to meet changing business goals. This adaptability is key to long-term success.
Conclusion
In conclusion, software maintenance is not an optional activity, but a strategic business imperative. It ensures system stability, protects against security threats, improves the user experience, and allows your software to grow with your business. Neglecting software maintenance can lead to costly downtime, security breaches, and loss of competitiveness. Recognise the importance of software maintenance and your business will not only survive, but thrive in the ever-changing digital world.