Introduction
Today companies are constantly seeking innovative ways to gain a competitive edge. One such avenue is the adoption of custom-built software solutions, which offer a myriad of advantages over off-the-shelf alternatives. Bespoke software is designed specifically to meet the unique needs and requirements of a particular business, and its potential to enhance efficiency and drive growth is nothing short of remarkable.
In this article we will show you a number of benefits of Bespoke Software Solutions.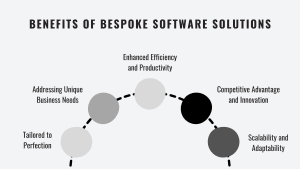 Tailored to Perfection
One of the most significant advantages of bespoke software solutions is their tailor-made nature. Unlike off-the-shelf software, which is designed to cater to a broad range of businesses, custom-built software is created with your organisation's specific requirements in mind. This means that every feature, functionality, and interface is tailored to match your unique business processes, goals, and challenges.
Imagine a suit made by a skilled tailor compared to one bought off the rack. The tailored suit fits perfectly and enhances your appearance, just as bespoke software fits perfectly with your business processes, enhancing your efficiency and performance.
Addressing Unique Business Needs
Every business is unique, with its own set of challenges, workflows, and goals. Off-the-shelf software often forces businesses to adapt their processes to fit the limitations of the software. However, bespoke software takes the opposite approach. It adapts to your business.
Whether you need a CRM system that aligns perfectly with your sales pipeline or an inventory management solution that caters to your specific product catalogue, bespoke software can be designed to address your unique needs. It ensures that you don't have to compromise on your processes and can operate at peak efficiency.
Enhanced Efficiency and Productivity
Efficiency is the lifeblood of any successful business. Custom software can significantly boost efficiency by automating repetitive tasks, streamlining workflows, and reducing the margin for error. With tailor-made software, employees can work more productively, as the software is built to align with their tasks and responsibilities.
Furthermore, bespoke software can integrate seamlessly with your existing systems and tools, eliminating the need for manual data entry and reducing the risk of errors associated with data transfer. This automation not only saves time but also minimises the likelihood of costly mistakes.
Scalability and Adaptability
As your business grows and evolves, your software needs will change as well. Off-the-shelf software may struggle to keep pace with your growth, often requiring costly upgrades or replacements. Bespoke software, on the other hand, can be designed with scalability in mind.
Custom-built solutions can easily adapt to the changing needs of your business. Whether you need to accommodate a larger user base, add new features, or expand into new markets, bespoke software can evolve alongside your organisation, ensuring long-term relevance and cost-effectiveness.
Competitive Advantage and Innovation
In today's hyper-competitive market, staying ahead of the competition requires innovation. Bespoke software solutions can give your business a competitive edge by allowing you to implement unique features or capabilities that set you apart from the competition.
Your software can be designed to reflect your brand identity, creating a distinct and memorable user experience for your customers. Additionally, it can be updated and improved continuously to adapt to changing industry trends and customer preferences.
Conclusion
The power of bespoke software solutions cannot be overstated. They offer businesses the opportunity to align technology with their specific needs, enhancing efficiency, productivity, and competitiveness. In an era where innovation is paramount, custom-built software can be the driving force behind sustained growth and success. By investing in bespoke software solutions, businesses can ensure that they not only meet their current needs but also remain agile and well-prepared for the challenges of the future.
Contact us sales@instandart.com if you want to order a custom-built software for your business or if you have questions.