Introduction
In the ever-evolving landscape of software development, user-centric design has emerged as a paramount principle. Whether you're crafting an app, website, or bespoke software, the significance of User Experience (UX) and User Interface (UI) design cannot be overstated. In this article, we delve into the world of bespoke software development, exploring the pivotal role UX and UI design play in creating intuitive and user-friendly interfaces that truly resonate with end-users.
What is Bespoke Software?
Bespoke software, also known as custom software or tailor-made software, is a specialised category of applications designed to meet the specific needs of an organisation or individual. Unlike off-the-shelf software, bespoke software is tailored precisely to the unique requirements, workflows, and preferences of its users. This customization empowers organisations to streamline their operations, enhance productivity, and gain a competitive edge.
The Significance of User-Centric Design
User-centric design is not just a buzzword; it's a philosophy that places the end-users at the core of the design and development process. When it comes to bespoke software, prioritising UX and UI design offers a plethora of benefits:
1. Enhanced User Satisfaction
User satisfaction is the holy grail of software development. By understanding your users' needs, preferences, and pain points, you can create software that not only meets but exceeds their expectations. This leads to happier, more satisfied users who are more likely to engage with and endorse your software.
2. Increased Productivity
Intuitive interfaces, clear navigation, and thoughtful UX design can significantly boost user productivity. When software is designed with the end-user in mind, tasks become more efficient, reducing the time and effort required to achieve goals.
3. Lower Training Costs
Bespoke software that is user-friendly and intuitive requires less training. Users can quickly adapt to the system, reducing the resources and time needed for onboarding and training programs.
4. Reduced Error Rates
A well-designed UI can help prevent user errors and reduce the risk of costly mistakes. Clear labels, logical workflows, and error prevention mechanisms can significantly enhance data accuracy.
Crafting Intuitive and User-Friendly Interfaces
Creating user-friendly interfaces for bespoke software requires careful consideration and a user-centric approach. Here are some insights to guide you in the process.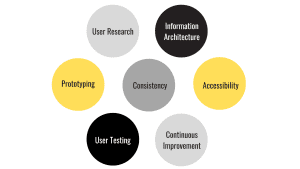 1. User Research
Start by understanding your target users. Conduct user interviews, surveys, and usability tests to gather insights into their needs, preferences, and pain points. This research will serve as the foundation for your design decisions.
2. Information Architecture
Organise the content and functionality of your software logically. Create a clear hierarchy of information and design navigation that reflects the user's mental model. Users should be able to find what they need intuitively.
3. Prototyping
Create interactive prototypes to visualise the user journey and test your design concepts. Prototyping allows you to gather feedback early in the process, making it easier to identify and address usability issues.
4. Consistency
Maintain consistency in your UI design. Use standardised elements, such as buttons, icons, and colour schemes, to create a cohesive and familiar experience for users. Consistency fosters a sense of reliability and trust.
5. Accessibility
Ensure that your software is accessible to all users, including those with disabilities. Follow accessibility standards and guidelines to make your interface inclusive and compliant with legal requirements.
6. User Testing
Regularly test your software with real users to gather feedback and make iterative improvements. User testing helps uncover issues that may not be apparent during the design phase.
7. Continuous Improvement
UX and UI design are not one-time tasks; they are ongoing processes. Continuously gather user feedback, analyse user behaviour, and make incremental improvements to refine the user experience over time.
Conclusion
In bespoke software development, user-centric design is not a luxury but a necessity. Prioritising User Experience (UX) and User Interface (UI) design can make the difference between software that simply functions and software that truly delights and empowers users. By embracing a user-centric approach, organisations can enhance user satisfaction, productivity, and the overall success of their bespoke software projects. Remember that the journey doesn't end with the software's launch; it continues with a commitment to ongoing improvement and a dedication to putting the user at the centre of every design decision.
If you have any questions or an idea for a project, contact us via sales@instandart.com or fill out the form on the main page of the site to discuss. We are always ready to help!